HD POXY – The all around champ of waxes?
I wish I took some time to search  the number of LSP (last step product aka wax or sealant) that is available for sale. I have a feeling that I would be shocked. I love options though. I am happy that I can spend my money on high quality detailing products, including waxes and sealants from so many different manufacturers. I, like most enthusiasts and of course pro detailers, have way too many waxes on the shelf. Just too many. I guess we believe that one day we will find that magical wax that will transform any color into a work of art. So we keep buying more and more. Truth is that most look very good and we should be happy with the result. I guess perfection has its benefits because I actually found what I consider a "perfect" wax.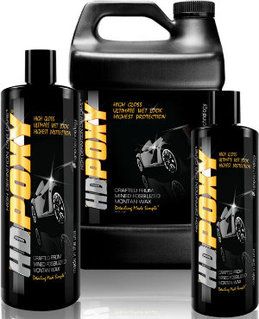 HD POXY is a hybrid product, meaning it is a combination of a natural wax (montan) and a synthetic sealant.
So how is this wax so different from all the others you ask? Well, the biggest difference is in the look department. Even if it was a difficult product to use, on look alone, I would put up with  a lot, just to get the result POXY provides. We all know, that judging the look of a wax is subjective. But to my eyes, HD POXY looks so wonderful every time I use it – This is the first product that I do not get tired of looking at. In fact I am still pretty much amazed each time I use it. The first time I heard of POXY, was 3 years ago this month. I have used it on every single detail ever since, unless the customer asked for something else. That is hundreds and hundreds of details. Not only do I enjoy the look of POXY, this is a product that is also very user friendly. It can be used in the sun – you don't need to wax your car in the garage or in the shade if you don't have an option to do so. Spreads very easy as you apply it and also it comes off just as easy. There is no powdery residue left behind. Poxy is also trim friendly. In fact, when you wax your car it is recommended to be used on all exterior surfaces. Windows, rubber or metal trim, plastic, lights etc…
DURABILITY – one of the most important qualities of any wax or sealant. There are some good looking products out there, but many of them don't last more than a few weeks. The ones that do last a while, simply don't add much to the finish, in fact sometime it mutes the look. Happy to tell you that POXY can easily last 4 to 6 months.
If you are in the market for a new wax type product and want to be really impressed, give HD POXY a try next time you detail your car. You will be very happy that you did.
Here is an example of the type of finish you can expect from HD POXY
Thomas Dekany